Future Exhibitions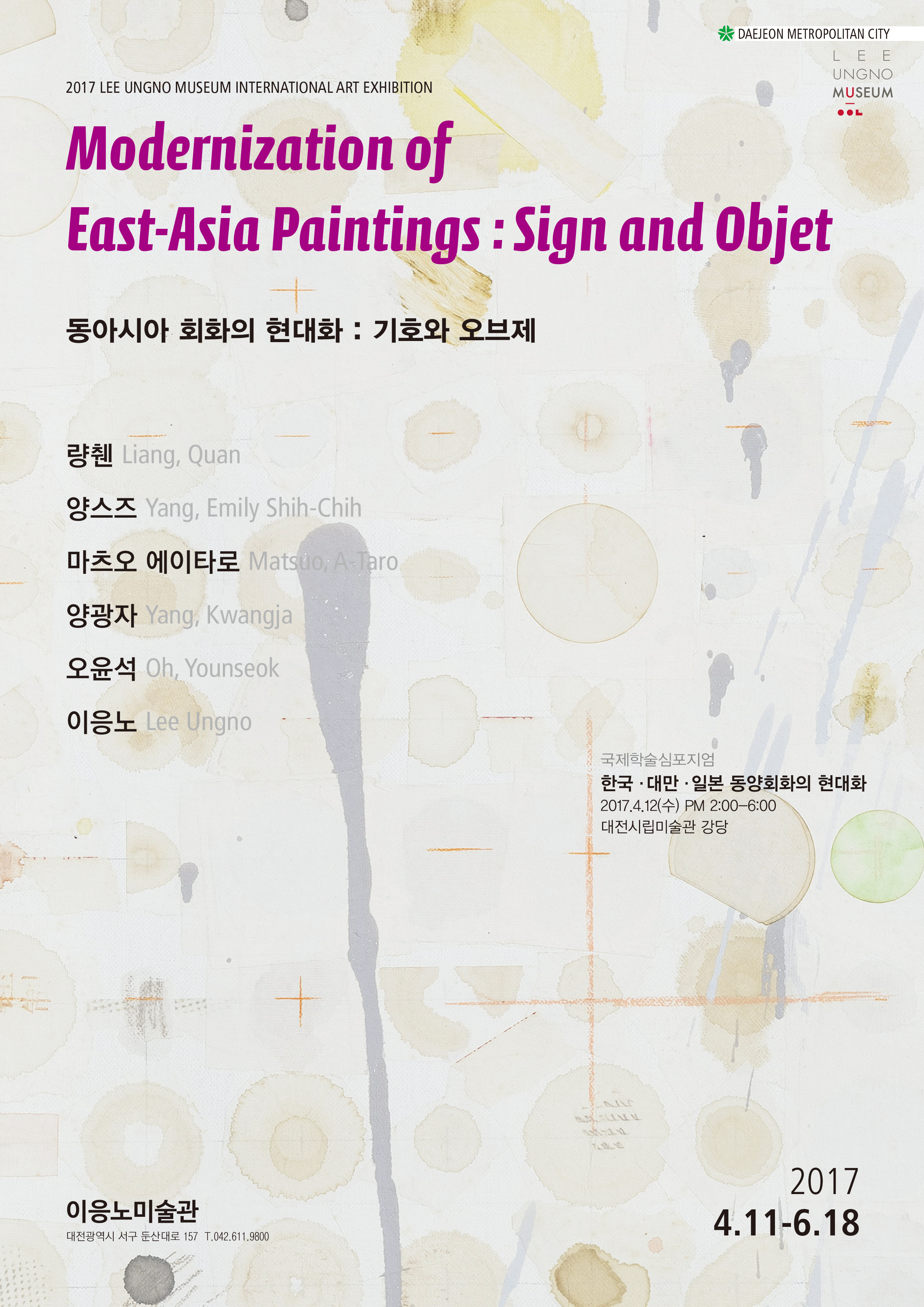 [Exhibition]
Modernization of East-Asia Paintings: Sign and Objet
11. April ~ 18 June 2017 / Lee Ungno Museum, Korea
Aritsts: Liang Quan (China), Yang Shih-Chih(Taiwan), Matsuo A-Taro(Japan), Yang Kwangja(Korea), Oh Yunsuk(Korea), Lee Ungno(Korea)
Between Sign and Object features, in addition to Lee Ungno, six artists from China, Taiwan, and Japan who worked in the period following World War Two. The exhibition examines East Asian calligraphic abstract art and its contrasts with the European approach to calligraphy in modern art. Lee Ungno's work, Collage (1962) is at the forefront of this show, drawing our attention to the potentialities of the abstract calligraphic method and the medium of collage, wherein calligraphy-based brushworks are rendered as signs and an assortment of random papers becomes a single object.
The works on display, all of which are made from paper in various art forms, show the attending artists' reinterpretation of the medium and of calligraphy, offering a valuable insight into the post-war East Asian art scene. The artists' attempts to express their own artistic traditions in modern form represent a process of renewing Western modernism in their own terms, a sort of 'altermodernism.' From this perspective, this exhibition demonstrates the ways in which the practice of contemporary art is based on and expanded through the reinscription of the past.
[Symphosium]
The Modernization of Painting in Korea, China, and Japan
12. 04. 2017 / Lee Ungno Museum, Korea
In this Lee Ungno Museum symposium, visiting speakers will discuss the different processes of modernization in the painting traditions of Korea, China, and Japan. Post-war East Asia saw Western modernism in full flourish, and artists in these countries developed new ways to react to Western influence. While many Korean and Chinese artists attempted to rid themselves of Japanese influence, many Japanese artists pursued modernity in painting according to international criteria. As a result, the artistic traditions of these three countries have developed along three different trajectories. This symposium will compare and contrast the characteristics of Korean, Chinese, Taiwanese, and Japanese painting during the process of modernization, examining the ways in which such processes have constituted the practice of Eastern painting as it is today.