Current Exhibitions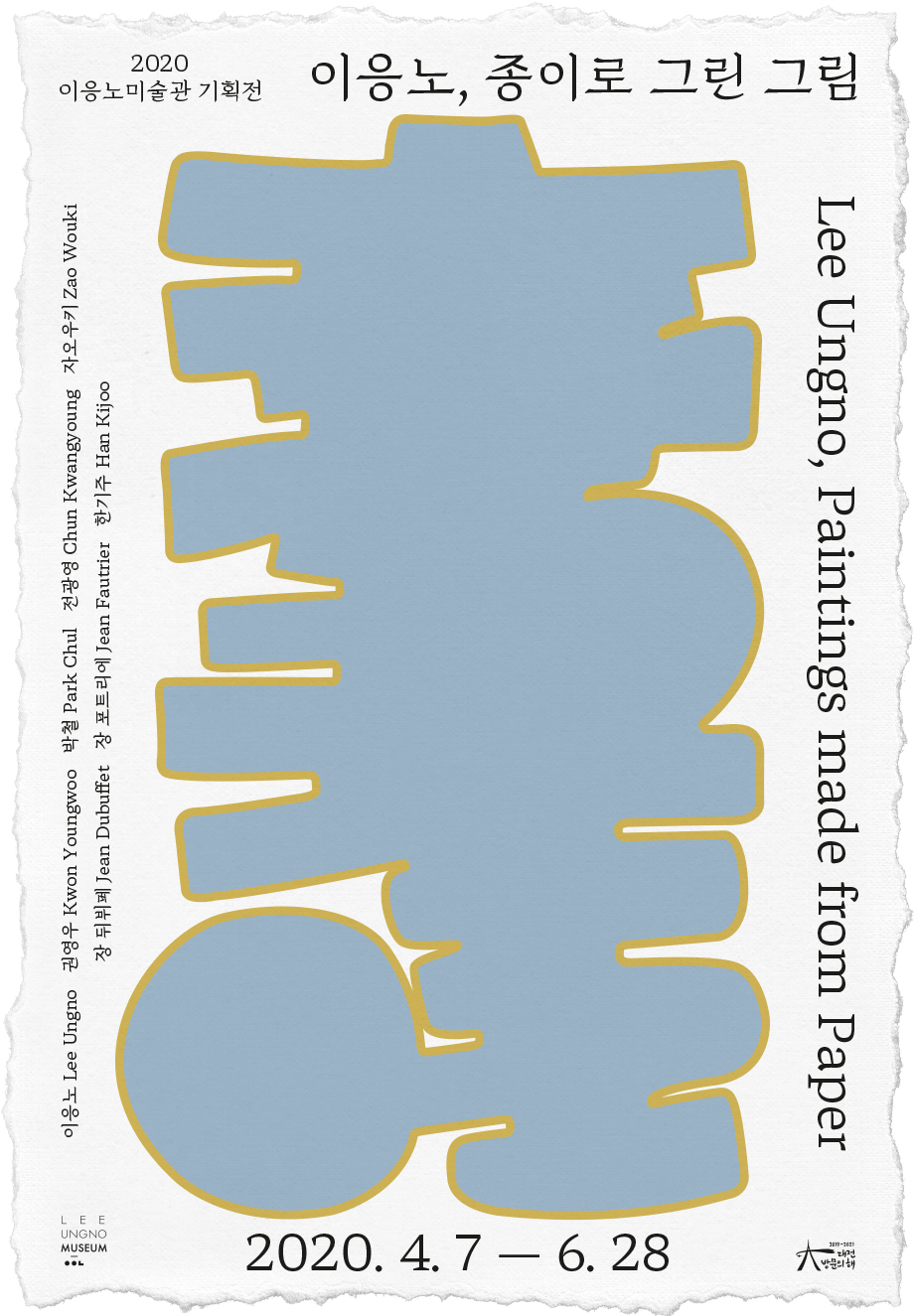 This exhibition, entitled Lee Ungno, Paintings made from Paper is focused on "paper," a material used extensively by Lee Ungno in his art. A comprehensive look at the artistic activities of Lee Ungno shows that the artist favored using a wide variety of types of paper for his works throughout his artistic career, including old magazines and newspapers that he found in his everyday surroundings and used for his collage works, and other types of scrap paper that he used for his papier-mâché sculptures and reliefs. The works in this exhibition are divided into several categories according to the types of paper and the techniques he used for them.
It was during the late 1950s, when he had an opportunity to experience Western modern art in Germany and France, that Lee Ungno's art began to change. He found that a great majority of the works presented at the exhibition broke away from traditional painting, involving the use of colored pigments paints and brushes, to experiment with a greater variety of materials and techniques. The event must have given Lee Ungno a precious valuable opportunity to gain a keen awareness of the changes that were occurring in the mainstream of the Western art at the time. In January 1960, Lee Ungno settled down in Paris, where he was introduced to art informel, a style of abstract painting characterized by geometrical deconstruction and the segmentation of forms that had emerged across Europe after World War II and was still prevalent in the European art world in 1960. The pioneers of art informel, such as Jean Dubuffet and Jean Fautrier, led the movement by creating works that featured unique matière, created painting on paper, or applying thick layers of paint and paper. The abstract art movement attracted some East Asian painters to Paris even before Lee Ungno arrived, including Zao Wouki, resulting in the creation of abstract paintings based ancient characters, allowing these painters to strengthen their identity as East Asian artists.
In Paris, the collage works that Lee Ungno produced during this period were collected and presented at his solo exhibition, Lee Ungno: Collage held at Galerie Paul Facchetti in 1962. The Lee Ungno's exhibition was held in Seoul in the same year, exerting a direct influence on a group of artists, including Kwon Youngwoo, inspiring them to focus on the process through which paper became a key artistic medium and modern art vocabulary. In this exhibition, visitors will also be introduced to the works of Chun Kwangyoung, Park Chul, and Han Kijoo, who are still active in the Korean abstract art community today, and given an opportunity to compare their works with the paper artworks of Lee Ungno, in terms of the use of materials and techniques.
Lee Ungno's use of diverse techniques and paper in his art shows that paper had been a key medium and main source of inspiration in his artistic development and played a crucial role in the creation of his own artistic vocabulary. In this exhibition, visitors will be introduced to a selection of unreleased paper artworks by Lee Ungno, classified according to materials and techniques for the purpose of this particular event. Visitors will also have the chance to view a fine collection of works produced by artists in Korea and overseas who have been keenly interested in the potential of paper as an artistic medium. The exhibition is expected to give visitors the opportunity to appreciate the creative ideas of a group of distinguished artists who use paper to create remarkable works of art.